Global Development, a range of engineering services for development
Improving living conditions for all
in developing countries
A priority that, for us, begins by improving universal access to essential services.
Our Global Development experts work alongside people and regions in Africa, the Near-East, Latin America and Asia.
Committed to working
at the most local level
We have chosen to work in an environmentally and socially responsible company: Global Development is a group committed to effecting change.
We are expanding rapidly and we need you to help us strengthen our group's teams: Hydroconseil, Urbaconsulting, Kattan and Nexsom.
High-level expertise
in complementary fields
WATER • SANITATION • ENERGY • CIRCULAR ECONOMY
URBAN DEVELOPMENT & HOUSING • CLIMATE CHANGE
Coming together with others
involves sharing
Curious about the world and others, you enjoy learning in order to take more relevant action
Driven by ethical conduct and a rigorous approach, you are open to others. You believe that your colleagues will enjoy working alongside you.
You believe in the power and effectiveness of joint action while remaining humble and realistic
You think that a company is a relevant vehicle through which to effect tangible change as its independence means it is able to improve things.
You know that upholding a commitment is not always easy and that determination is required in order to succeed
You know that building solid foundations need time, a clear and reassuring framework and a close-knit team.
You understand that, to ensure real collective freedom, there needs to be a balance between rights and duties.
You want your work to have a real impact
You want to work on a range of projects that focus on major societal challenges, and at grassroots level alongside local partners.
You want independence and empowerment regardless of your position and experience.
A close-knit and committed team
We are a young, close-knit, multi-disciplinary team that works around the world
We work with local stakeholders on a range of fundamental issues such as access to water or energy, solid waste management, and urban planning.
We are invested and realistic: we can and do achieve something useful every day; it is up to us to make things happen.
We are a company with humanist values that recognises that everyone has the right to make mistakes
To learn from and achieve things with others. We are mindful of the well-being and work-life balance of all our team members, as these guarantee fulfilling interpersonal relationships.
Expertise and high standards
We work in an intellectually and organisationally demanding profession
And within a competitive environment: we need to always give our best.
Our collective governance is consistent with our core beliefs
The capital belongs to us because it is the result of our work and the price of our independence.
All of our shares are held by our employees
A cookie-cutter job where you do the same thing each day.
A company with great ambitions but outdated governance.
A role that allows you to neither grow nor test yourself.
A dull company in which you would just be a (nice) number.
A vertical career path that leads to the most beautiful office.
Colleagues that confuse tourism and commitment.
An atmosphere that reminds you that…you are at work.
Sometimes, we can go too far
If you join us, you'll end up speaking like us and find it completely normal
– With this crazy deadline the client's given us, I haven't had time to fill in my timesheet or my SEP. I'm going to have a mad rush to catch up!
– Lighten your mental load, it's bad for your karma; you're too young, you need to enjoy yourself!
– We're having a team meeting? We need to talk about growth and profitability. Well yes, I don't see how we can keep the group going otherwise.
– Why don't you want to go to Chad? Are you waiting for an assignment to Geneva or something?
Yes, sometimes, we can go too far…
Join us and let's get going…
If upon reading our little cameos, you thought "yes, that applies to me", come and join us on an adventure full of encounters, solidarity, friendship, learning, challenges and discoveries.
Learn more about the different
Global Dev teams
We work on the entire project cycle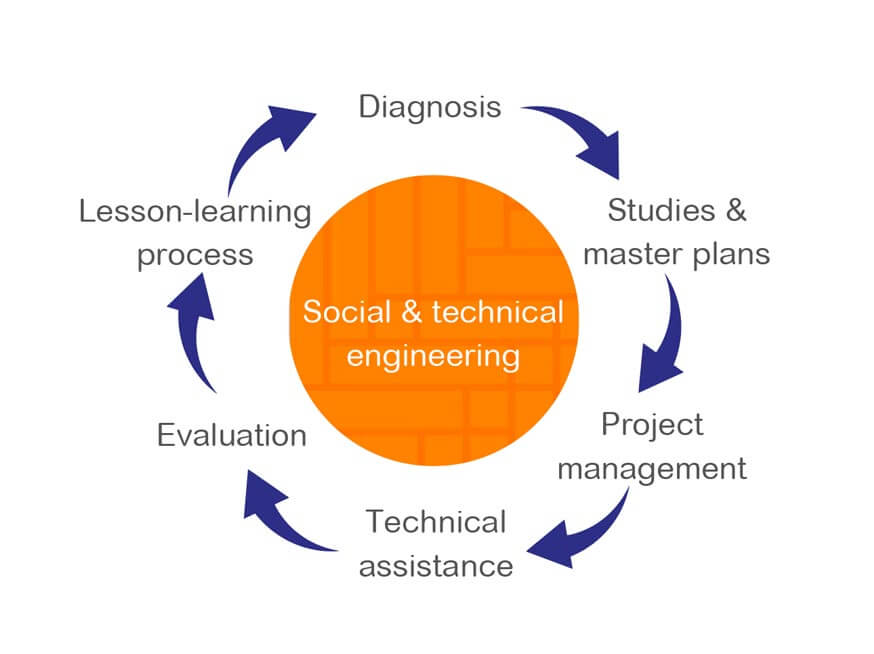 We are engineers, economists, institutional experts and architects/urban planners who work hand-in-hand to provide proper access to essential services (water, sanitation, waste, energy, etc.) and improved living spaces to the inhabitants of developing and emerging countries. We also work on climate change-related issues (the resilience of cities, the impact on water resources, including on water used in agriculture, etc.).
850 assignments in 90 countries
Since we began in 1995, we have completed 850 assignments and projects in more than 90 countries around the world; we also have a permanent base in around a half-a-dozen countries (Mauritania, Burkina Faso, Lebanon, Madagascar, Colombia, Togo, France).
Institutional, non-profit
and private clients
Our clients include multilateral institutions (the World Bank, the European Union, etc.), development agencies (the French Agency for Development, for example), international organisations (UNICEF, UNDP, FAO, etc.) and NGOs.
A company that supports you
Who will you work with?
At Global Dev, you won't be working alone.
From your very first day, your team coordinator will be on hand to assist you and ensure you are fully integrated into the team.
Our internal organisation means that our support functions are always available to help you with your assignments.
At Global Dev, you are supported by a close-knit and invested team with multidisciplinary expertise and you will work in a stimulating and friendly environment.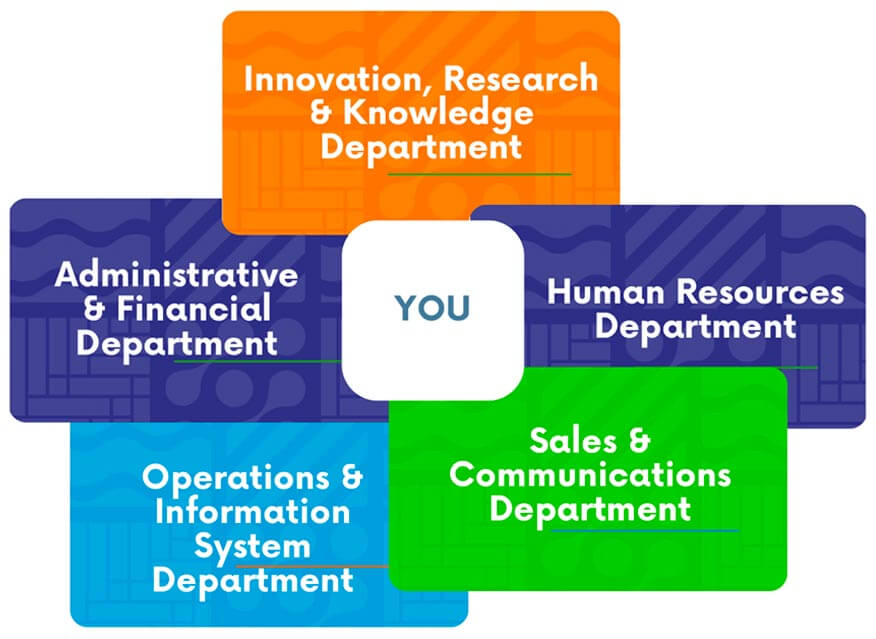 Your orientation and career development
How will you embark on the Global Dev adventure?
We have a robust integration process and tools in place to ensure that your Global Dev adventure gets off to a smooth start: an introductory handbook, internal training modules, and regular meetings with your mentor throughout your first few months with us.
There are plenty of opportunities for development should you wish to change roles, business area or even geographic location. A team member can move into a role based in one of the countries in which we work, or into a subject matter expert role and become either a manager/mentor or a team coordinator managing a number of colleagues as a manager/coach.
Your career with us will be further enriched by the range of people met, lessons learned and events and by cross-cutting contribution of all our employees to the life of the Global Dev group.
Our values
We wish to contribute to the achievement of the SDGs as part of an entirely independent, professional, innovative, and proactive engineering group that respects humanist values and our employees' well-being; a group that adopts a participatory management approach and enables us to derive satisfaction from our work and our commitment.
IMPACT
Working for developing regions and their inhabitants
We ensure that our actions have meaning and that everyone has the opportunity to play their part.
SHARED KNOWLEDGE
Learn and share knowledge on a reciprocal basis
We are convinced that, in a changing world, the best way to apply our expertise is through innovation and the mutual sharing of knowledge.
INTEGRITY
Independence and ethics to ensure high quality work
We consider our upstanding and authentic position to be fundamental for supporting our teams and our clients.
AGILITY
Be in the right place and respect the place of other
We have created a working environment of mutual respect, mutual assistance and adaptability to ensure there is lively and effective cooperation.